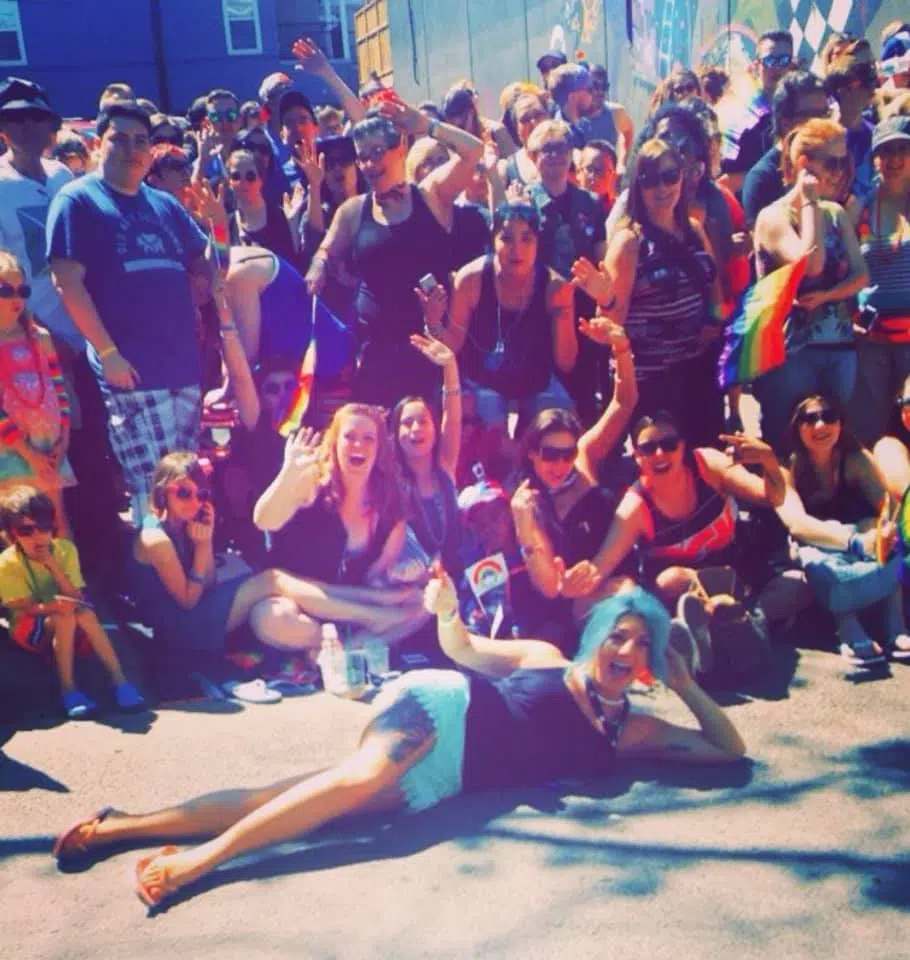 Evolution Wonderlounge
Every Thursday – Sunday night
June 2 – June 30
Featuring DJ's, Drag Queens and Various Artists!
Edmonton City Hall Plaza 
Pride Month Kick-Off and Proclomation
Friday, June 3
Head to City Hall Plaza at 4:00pm on Friday, June 3 to celebrate the Kick-off of Pride Month 2022 – A Ruby Red 40th Anniversary Celebration. The opening ceremonies will feature a ceremonial Indigenous prayer, introductions of Capital Pride Edmonton, Evolution Wonderlounge and Edmonton PrideFest, a reading of the Mayor's Proclamation and performances by local artists.
Pride Reunited – Fruit Loop
Fruit Loop is excited to bring you not one, but TWO incredible weekends of Pride programming. June 3 -5 and June 11
FREE and FAMILY-FRIENDLY street fair of epic proportions at Grindstone Theatre. They will host a series of outdoor live performances, drag shows, dancers, photo booths, community booths, workshops, food trucks, beer gardens and late night dance parties to celebrate Pride here in Edmonton.
Free educational/experiential workshops will be offered Sunday including house dance, heels dance, burlesque, and voguing!
Heading to Evolution Wonderlounge to continue the party after our main stage sets? Their 10pm shuttle bus will bring you back downtown
The Grindstone Theatre
Friday, June 3 – Sunday, June 5
Morinville Family BBQ
Where? 25126 SH642 Sturgeon County
Sunday, June 5
celebrate PRIDE week in Morinville! June 5 to 10, 2022 Sunday, June 5 12:30 p.m. Flag Raising Ceremony at the Morinville Leisure Centre (25126 SH642, Sturgeon County) as we raise the rainbow Pride flag to kick off Pride Week celebrations
The Starlite Room
Saturday, June 11: Another Fruit Loop Pride Reunited Event
St Albert Pride
Where? Rotary Park 
Saturday, June 18 11-7pm all ages
Edmonton Pride Fest 
Where? Churchill Square
Friday, June 24 – Saturday, June 25
Friday evening will feature the Glitter & Grease party with headliner Luciana, Queen of Electro, as well as local bands Daniel Martin & The Infamous and Circle the Wolves runs from 7 p.m. to 10:30 p.m
Following that is the main event on Saturday, running from 11 a.m. to 10:30 p.m. with headliners including Virginia to Vegas, Bollywood sensation Neha Batra and dozens of local performers.
FREE EVENT
Featuring:
• Fefe Dobson
• Virginia To Vegas
• Local & International Drag Superstars
• Edmonton's own Bollywood sensation Neha Batra
• Food Trucks
• Edmonton's largest Beer Gardens
• LGBTQ2S+ Artisans and Vendors
Pride Drag Brunch
Where? Churchill Square